The History of MAD Fm Worldwide
From small beginnings, to multiple contributing artists and DJs from around the world.
MAD Fm Worldwide is the brainchild of two people with a love of music. We are champions of all things music, including mainstream, old-time, rock, indie, unsigned and house music artists.

With a hand-picked selection of music, and contributions from around the world, we bring true diversity to you. This is not a single genre station! We specialise in playing a huge variety of easy listening, rock, jazz, blues, decade specific artists, indie unsigned artists and house music from around the world, with variety being at the centre of every musical choice we make.

We have been heavily involved in the music and entertainment industries over the last 20 years and formulated the concept for MAD FM Worldwide over a bottle of wine late one Friday night, during a philosophical discussion about broadcasting and its place in the local community. With over 15 years of experience in underground radio, a passion for music and also extensive experience in the music scene, together with operating a very successful private music company, we have a wealth of organisational and technical talent.
Our Goals for MAD FM Worldwide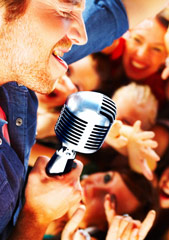 a hand-picked selection of local and international shows
an eclectic selection of music programming
a platform for indie and unsigned artists to release their music on
uninterrupted and commercial-free Music 24 hours a day
a musical variety that you will not find on any other station
always think big! we started with a single live show and 2 playlists, using a small hosting service of dubious reliability 8 years ago, and we continue to evolve. That's the MAD way!